"Happy at Home"
A fresh approach to care
Home Care in Reading & Wokingham
Since we have been working with Peter's team at Heroes Homecare we have found them to be very professional and reliable from the start. Peter is very approachable and friendly. I would recommend Peter's team to anyone.
In all of our dealings with Heroes Homecare from start to finish, we have found them to be caring, courteous and professional at all times.
Heroes Homecare are great to work with from start to finish. Their friendly, open communication, attention to detail and patience are all a testament to their core values and fresh approach to care.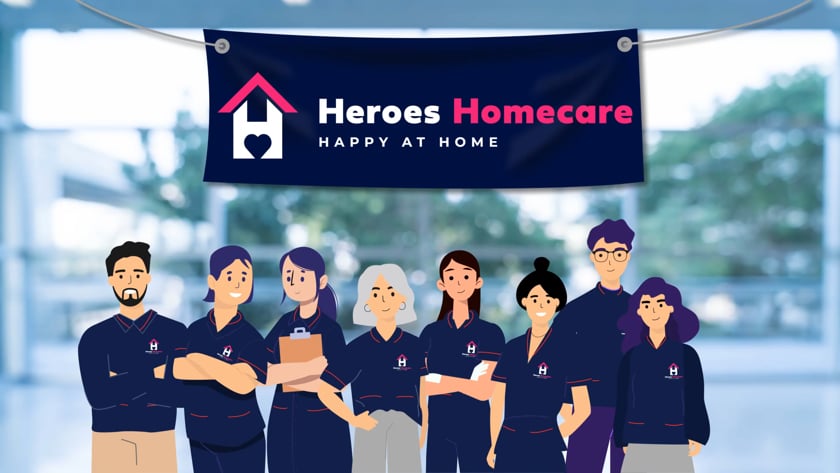 Local independent home care in
Reading & Wokingham
Heroes Homecare is your local independent home care service provider in Reading and Wokingham and the surrounding areas. Do you need extra support for you or your elderly loved one to live comfortably at home?
Our team of friendly carers will care for you or your loved one at home so you can focus on spending quality time together with your family. Choose personalised care from highly-trained heroes who live locally in and around Reading and Wokingham, and are part of the community.
Juggling a family, career and caring for a loved one can feel overwhelming. You want to enjoy spending time together, but need to make sure they're safe and comfortable before you can settle down with a cup of tea together. We want to help.
We take a fresh approach to care that's focused on you and your loved one. Our family of care heroes, based in the heart of Reading, understand what matters most: helping people to live safely, independently and happily in their own homes with dignity. It's our mission is to provide care in Reading and Wokingham that's affordable, compassionate and tailored for each of our clients, so you can enjoy being a family again.
Our values are at the heart of everything we do, making sure we can provide high-quality home care to help our clients live with dignity and respect. In fact, when we're with our clients we treat them like our own family, and making sure family members are safe and happy goes without saying.
We only hire people who are naturally compassionate and treat clients the way we'd like to be treated.
Our carers are highly skilled, polite and dedicated to maintaining client dignity in everything they do.
Whatever your requirements for you or your loved one's care, we will try to accommodate them.
Proud to be rated by the CQC & a member of UKHCA
We are a member of the UK Home Care Association and our services are delivered in line with Care Quality Commission guidelines to ensure our clients get the best care possible. We have a team of close-knit, highly skilled carers and provide ongoing training to keep our clients safe and happy.
We're looking forward to sharing our audit results here when we have our first inspection.
Why Choose Heroes Homecare?
Dignity & Respect
Our compassionate and courteous carers treat clients with dignity and respect at all times
Selective
Our selective hiring process means we only hire the best carers; individuals who are both skilled and friendly
Caring Services
Making sure our clients are safe and happy is our number one priority, one we take very seriously
Open Communication
We want you to know your loved one is in safe hands, so we keep you updated every step of the way
Flexible
Our local independent home care is built around you or your loved one & tailored to your unique needs